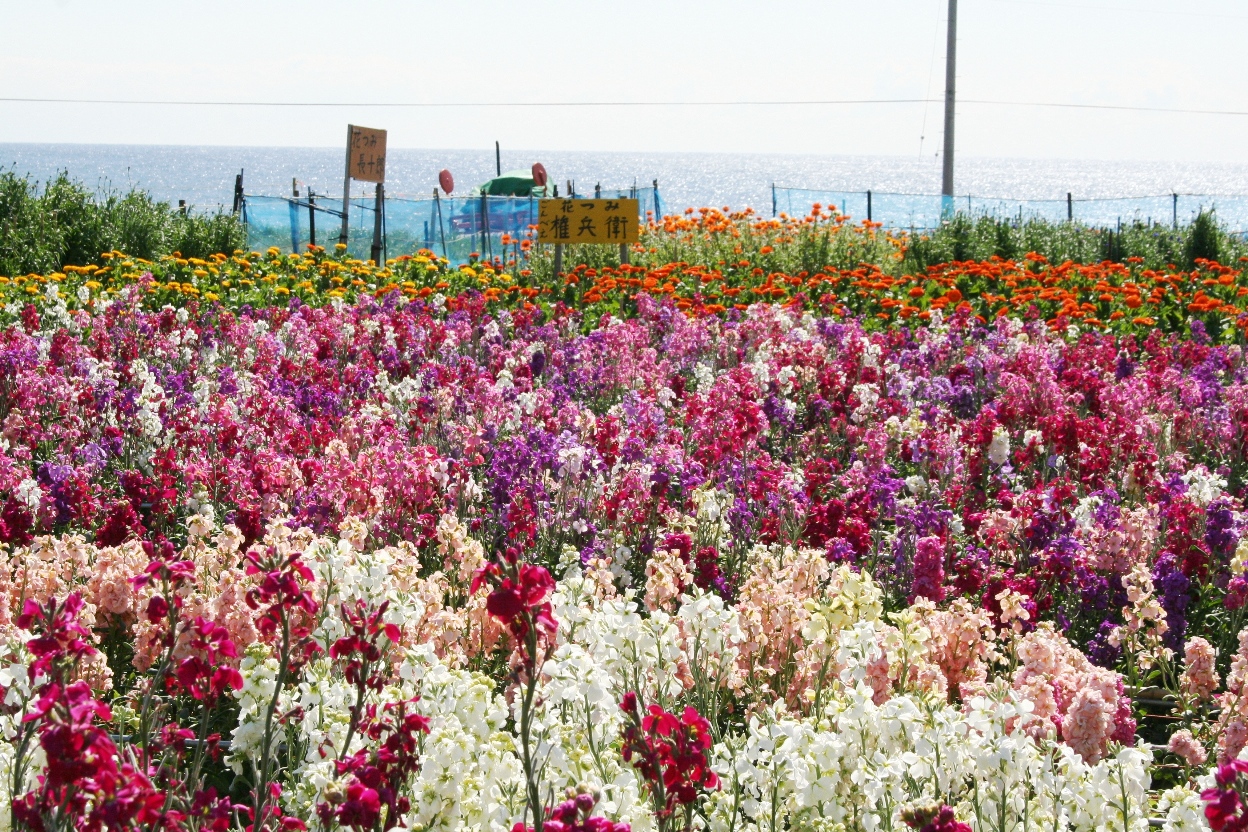 Flower calendar
Plum

Early January - February

Red plum

Mid February - mid March

Yoshino cherry tree

March - April

Rosemary

March - April, September - October

Statis

Early May - late June

Hydrangea

Mid June - mid July

Cosmos

Late August - November
Venidium

December - March

Calendula

December - March

Stock

December - late April

Poppy

December - March

Canola flower

December - March

Narcissus

December - February

Gancho sakura

Mid January - February

Carpet of flowers.
The scenery of the flower garden of the early spring is a natural scene which adds poetic charm to the season of Minami-Boso. Not only picking flowers, there are many spots where are popular among peaple taking photos and videos, The history of the flower clutivation is old, and the amount of production of calendula is the most in Japan.
The blue sea. A white wave.

Sotobo faced the Pacific, and the wide horizon opens, and takes root for a perfect point of the surfing throughout the year. Different side of Uchibo is shallow for a good distance froom the shore continued, that is good to children.

Beach of Minami Boso

Uchibo

Iwai Beach(Tomiyama)
Tomioka Beach(Tomiura)
Haraoka Beach(Tomiura)
Tatara Beeach(Tomiura)

Sotobo

Setohama Beach(Chikura)
Minami Chikura Beach(Chikura)
Shioura Beach(Shirahama)
Nagura Beach(Shirahama)
Nemoto Beach(Shirahama)
Wadaura Beach(Wada)




Looking on. Able to come across the sunrise and the sunset.

"Nojimazaki Lighthouse" of a white wall rising on the cape of the southernmost Shirahama district of Boso Peninsula. More than 100 years, the lighthouse looked on the sea and town from this place.



In summer, larfe fireworks on the sea.

Poem about summer. The fireworks of full impact are gorgeous.

Shirahama Ama Festival Late July
Iwai Beach Nouryou Fireworks Festival August 5
Chikura BON Festa Mid August






The light of the woman diver twinkles in Shirahama.

The event that the Shirahama woman diver Festival tells to start of the Summer vacation."Ama no Yaei(night time swimming of ama)" is woman divers of white clothing enter the sea with bamboo torches which light takes the spectator into a world of fantacy.

白Shirahama Ama Festival Late July





Late and red Autumn.

The season of colored leaves at warm Minami-Boso from December to November. The colord leaves of Komatsu temple are one of the highlight. The scenery which the mountains changing slightly is characteristic of Minami-Boso.





Scooping horse mackerel at Tomiura, Minami-Boso.

Scooping horse mackerel where put a net on the shallow for a good distance from the shore sea and discharged it into there. That is summer pleasant event of the Tomiura district.